Why Fiber Internet Is Essential For Your Business
Posted On January 25, 2023
---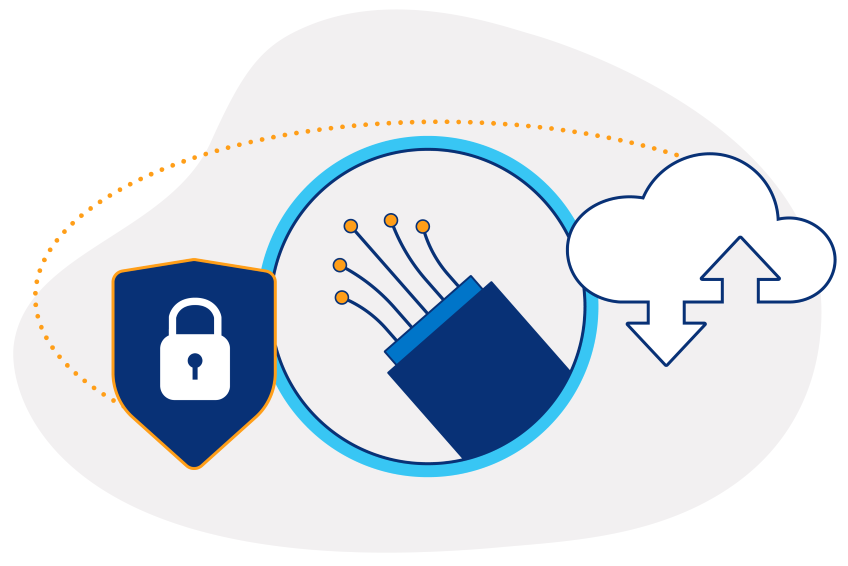 Fast, reliable and secure connectivity is a must-have component for enterprise businesses in a digital-driven world. But with multiple ways to connect, it can be tough to decide which solution is right for your business. Here's what makes fiber-optic internet the top choice for fast, high-performance connectivity you can count on.
Fiber Vs. Broadband: How Do They Compare?
What is broadband?
Broadband refers to wide bandwidth data transmission, a type of always-on internet access that transmits data as electrical pulses over copper cables, optical fiber, DSL or satellite. With broadband, connections are shared among many users and feature speeds that are frequently asymmetrical, meaning that upload speeds can lag significantly behind download speeds. This results in speeds that vary based on the levels of traffic among users at a given time—leaving broadband vulnerable to high-traffic bottlenecks and unable to guarantee consistent speeds.
What is fiber?
Fiber refers to the transmission of data via light pulses over fiber-optic cables made up of glass fiber strands. Fiber features the capacity to transmit data at high speeds over long distances—offering multiple high-speed options customized to your needs. Data may be pooled locally to reduce costs or delivered directly to your business with the addition of Dedicated Internet Access. With fiber, your connectivity is secure, reliable and significantly faster. Plus, because fiber transmits data in the form of light pulses instead of electrical pulses, it isn't subject to electrical outages like broadband connections.
In past years, broadband was a popular and cost-effective solution due to widespread availability, but the rapid growth of fiber-optic cables quickly proved its ability to outperform broadband. Fiber features a modernized infrastructure, plus a framework that allows users to enjoy consistent performance and reliable speeds even during high-demand periods of use.
| | | |
| --- | --- | --- |
| | Fiber | Broadband |
| Speeds | Up to 100 Gbps | Average 5-150 Mbps2 |
| Upload/download speeds | Equally fast upload and download speeds | Upload and download speeds vary based on traffic |
| Delivery | Light pulses via fiber-optic cables | Electrical signals usually via copper cables, fiber, DSL or satellite |
| Distance | Pulses can reliably travel long distances | Signals often degrade over long distances |
| Security | More resistant to interference attempts and doesn't use tappable signals | More vulnerable to be tapped, damaged or have signals scrambled |
The strengths of fiber-optic internet are clear, but don't just take our word for it—let's examine the key advantages of fiber and what they can do for your business.
Key Advantages Of Fiber Internet
Connection at the speed of light pulses
Hands down, the strongest advantage of fiber internet is the game-changing speed it offers. In fact, 91% of IT pros surveyed agree that cloud apps respond faster when accessed over a fiber internet connection.1 Fixed broadband connections typically range anywhere from 5 to 150 Mbps with an average download speed of about 50 Mbps, while many fiber internet connections can reach up to 100 Gbps.2 With just 1 Gbps of fiber vs. 50 Mbps of broadband, that's a potential boost of up to 20x faster connectivity.
More reliability, more productivity
Fiber internet is more reliable for a variety of reasons, from its physical advantages over antiquated copper cables to its ability to handle high volumes of users and data without decreased performance. Fiber delivers consistent, low-latency connectivity that won't let you down during peak demand. Not only does this mean less lag—it also reduces the risk of common broadband challenges, such as throttling (when service providers ration speeds during high-traffic periods to prevent overload-related service outages). And it's hard to deny these advantages when 97% of IT pros surveyed who made the switch to fiber reported faster speeds and reduced lag.1
Equal speeds for modern needs
Without the risk of overload outages, fiber internet can handle upload speeds equally as fast as downloads—meaning quick, easy file sharing and consistent performance virtually anywhere. And since robust bandwidth and synchronous speeds are crucial for smooth on-site business operations and work-from-home alike, fiber internet is the ideal solution for a diverse audience of growing businesses.
Simply put, fiber internet delivers benefits that suit the ways we do business today. It's fast, secure, reliable and built to handle the high-performance connectivity users have come to expect.
Picking The Right Fiber Internet Provider
After you weigh your connectivity options, your next step is to select the right fiber-optic internet provider for your needs. Some key factors to look for in a provider include:
Fast, scalable connectivity
Widespread availability
Competitive pricing
Experienced support
Advanced security features
Why Lumen® Fiber+ Internet?
Lumen® Fiber+ Internet provides exceptional performance and flexible solutions, available for streamlined ordering through our digital marketplace. A 99.99% service availability SLA, scalable connectivity and speeds up to 1 Gbps help you maximize productivity, while the online portal lets you manage and monitor with ease. Our fiber offers extensive features including:
Upload and download speeds up to 1 Gbps
99.99% service availability SLA
~400,000 global route fiber miles
Predictable monthly service rates
No data overage fees
Optional Lumen® Edge Protect for added security
Easy-to-use portal for self-service ordering, configuration, network management, monitoring, billing and service expert support via chat
Fiber+ Internet brings built-in global threat protection and speeds designed to provide enterprise-grade performance on our vast global fiber network—so you can deliver exceptional customer experiences.
1Quadrant Strategies, Lumen Competitive Claims Report, July 2022.
2Statista, Average Mobile and Fixed Broadband Speeds Worldwide, July 2022.
This content is provided for informational purposes only and may require additional research and substantiation by the end user. In addition, the information is provided "as is" without any warranty or condition of any kind, either express or implied. Use of this information is at the end user's own risk. Lumen does not warrant that the information will meet the end user's requirements or that the implementation or usage of this information will result in the desired outcome of the end user. All third-party company and product or service names referenced in this article are for identification purposes only and do not imply endorsement or affiliation with Lumen. This document represents Lumen products and offerings as of the date of issue.
---
Trending Now
You may also like