How to Drive Productivity by Switching to Fiber Internet
Posted On August 10, 2022
---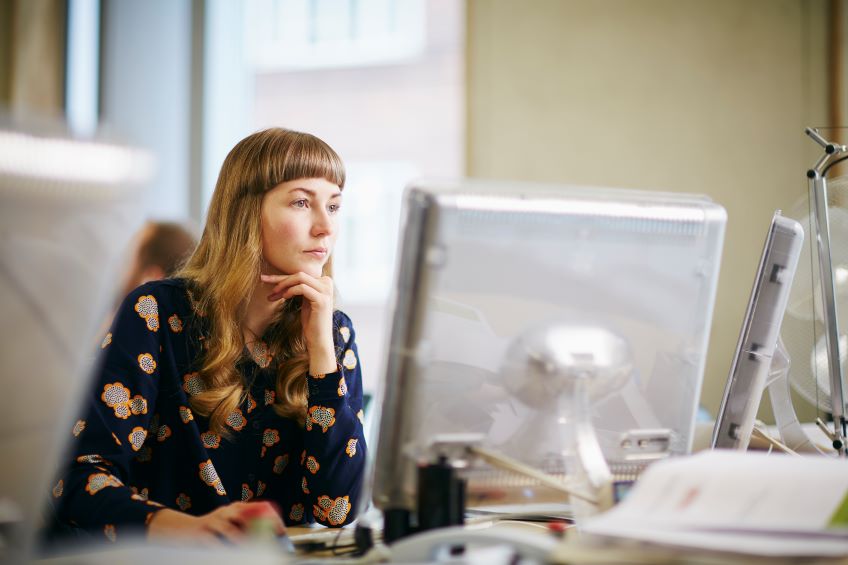 Ask any doctor or internet provider and you'll hear the same thing: Fiber is good for you. But fiber internet is more than just a high-speed connection—it can help drive productivity and improve the end-user experience, especially for businesses looking to upgrade their connectivity as work environments shift.
As usage of cloud and SaaS applications continues to grow in the wake of the COVID-19 pandemic, companies are looking for ways to create productive work environments and empower their employees, wherever they are, and that begins with fast, reliable, and secure connectivity.
The need for speed
The core advantage of fiber connectivity is its fast, symmetrical speeds. Other broadband offerings prioritize download speeds over upload speeds, but lower upload speeds may not be sufficient for two-way bandwidth-intensive applications such as videoconferencing.
Fiber connectivity is generally available at up to 1 Gbps symmetrical upload and download speeds; however, Lumen is starting to deliver 8 Gbps fiber-enabled internet services for residential and small business markets. These speeds provide the bandwidth needed for high-performance over-the-top (OTT) applications to coexist, including VoIP, videoconferencing, and other collaboration tools that your hybrid and remote employees rely on to stay productive—especially if they're competing for bandwidth with others in their household. In fact, in a 2021 survey, 73% of businesses that switched to fiber reported improved speeds and two-thirds reported a substantial increase in productivity.
Reliability above all
Fiber connectivity is also inherently reliable. While copper-based internet connections transmit electrical signals, which are more distance-sensitive and susceptible to interference and signal loss, fiber internet sends pulses of light along strands of glass, enabling faster transmissions and lower latency. These high-speed, low-latency connections help reduce employee downtime, thus driving efficiency.
Speaking to Lumen Fiber+ Internet specifically, the service helps to connect and coordinate hybrid workforces and its 99.99% service availability SLA offers peace of mind for IT and leadership. As a vote of confidence in our Fiber+ service, Lumen also offers SLAs for time to repair and chronic outages. Alternatively, most broadband providers are best-effort services with no service SLAs.
Protection in every connection
As companies re-design their networks to accommodate hybrid work, ecommerce, and other bandwidth-intensive use cases, it's paramount that they closely integrate security. Fiber connections are innately more secure than other forms of broadband, as fiber cables are tougher for hackers to tamper with, and light pulses are more secure than electrical signals.
Beyond fiber's physical makeup, however, there are built-in and add-on security solutions that can help ensure the security of your fiber connectivity. For example, Lumen offers Edge Protect for Fiber+ Internet for an additional monthly fee. The cost-friendly DNS firewall protection secures your business network against ransomware, malware, phishing, and data exfiltration.
Reducing IT complexity
We've established that fiber internet can help drive productivity for employees and customers of an organization, but did you know that it can also help boost productivity for IT decision makers? Organizations can purchase Lumen's fiber internet themselves online via a self-service portal, which also provides network monitoring, utilization, threshold alerts, invoicing and troubleshooting capabilities to streamline service management. And you can easily increase the bandwidth as business needs evolve. Lumen also offers a simplified cost model—with no expensive equipment purchases required, and all future software updates included—further streamlining the migration experience for IT teams.
This content is provided for informational purposes only and may require additional research and substantiation by the end user. In addition, the information is provided "as is" without any warranty or condition of any kind, either express or implied. Use of this information is at the end user's own risk. Lumen does not warrant that the information will meet the end user's requirements or that the implementation or usage of this information will result in the desired outcome of the end user. This document represents Lumen products and offerings as of the date of issue.
---
Trending Now
You may also like