Adapting the office to new workforce expectations
---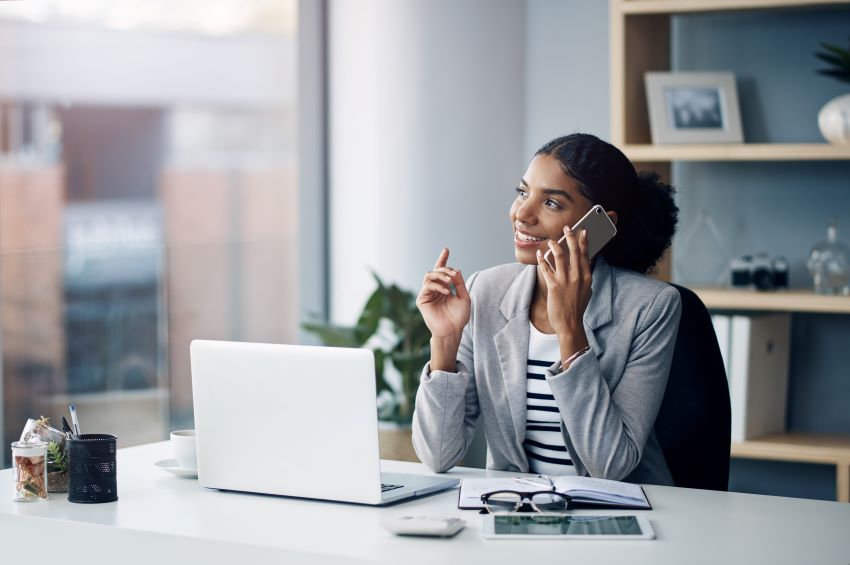 Employees are coming back to the office. Or maybe they're still working at home. Or both. We now have options, after all. Many employees are now part of a hybrid workforce and they could be anywhere. Whatever the new normal in your organization, adaptability is the core competency you need.
Transitions will be large (city centers will have more people in them during the day) and very personal (your commute goes from 10 steps in your robe and slippers to 10 miles on a crowded highway). Adaptability will come in many forms and there is one aspect that might be easy to overlook as we go back to the office or split our time between office and home. It's something at the intersection of systemic and personal transitions.
Traditionally, we assumed enterprise technology was ahead of consumer technology. That's where the money was, where the investments for efficiencies at scale were made. What if the exact opposite is now true in meaningful ways for your employees? And it's the office that must adapt?
Technology and practices evolving together
At the start of the biggest pandemic in 100 years, we all experienced some initial disruption and disorientation working from home. But then, the technology industry and innovative businesses did what they do best: They made what we wanted to do easier to do.
The entire consumer experience of living, working and playing at home got an upgrade. Videoconferencing providers added bandwidth and features. Local retailers of all sorts added tech-enabled delivery services that took convenience to a new level whether their product was lunch or fine wine.
You could order a new computer from your preferred big box retailer and find it on your doorstep within a couple hours. So, why does it take corporate IT six weeks to do the same thing? A lot of things that people might have considered normal corporate practice in the past will now seem outdated at best, and terribly frustrating at worst.
Consumer-oriented technology and business practices evolved quickly in the last two years – because they had to. The infrastructure and mindset in that part of our lives will now continue evolving at pace with our wants and needs. The world of the office is coming off a two-year intermission. What was status quo then will be frustrating now.
For instance, many of the practices we got comfortable with during the work-from-home era will continue because they work. Do you have enough network bandwidth at the office for everyone to be on video calls at the same time? That's just the beginning of the issues you need to think about. Do you have the security protocols in place to manage everyone's access when they could routinely be in different places logging on with different devices?
Some things will be straightforward to fix. You can call your Lumen rep and order a bandwidth upgrade, for instance. Other things will require a lot more thought. In a hybrid workforce, the way data flows through your organization is going to change. It will be produced and consumed in new places. Can you capture it, analyze it, and store it efficiently in this new environment?
Playing catch up, play to win
One of management's imperatives has to be avoiding a new form of digital divide within the hybrid workforce. Your employees are coming back to the office with new expectations. They've been catered to by an entire industry working feverishly to reduce friction in their lives. If you truly believe that there's value in having people together at the office, you cannot have employees saying to themselves, "This was easier at home."
The user experience bar has been set higher; the organization needs to adapt. The stakes are higher too since employees can find jobs much more easily during this Great Exploration period where people are leaving old jobs and starting something new.
Adaptability requires a lot of honest discussion of how it's working and what's missing. And changes will have to happen quickly, whether that's new technologies, network upgrades or security frameworks.
The good news is that this is an opportunity to rethink how you want to work or organize the business going forward. Lumen is going through this kind of self-assessment too as our workforce hybridizes. One advantage we have is that the Lumen platform was designed for this kind of transformation. By integrating adaptive networking, edge cloud, connected security and collaboration services we can make adjustments more easily than others.
Let's learn from each other and adapt together.
This content is provided for informational purposes only and may require additional research and substantiation by the end user. In addition, the information is provided "as is" without any warranty or condition of any kind, either express or implied. Use of this information is at the end user's own risk. Lumen does not warrant that the information will meet the end user's requirements or that the implementation or usage of this information will result in the desired outcome of the end user. All third-party company and product or service names referenced in this article are for identification purposes only and do not imply endorsement or affiliation with Lumen. This document represents Lumen's products and offerings as of the date of issue. Services not available everywhere. Business customers only. Lumen may change or cancel products and services or substitute similar products and services at its sole discretion without notice. ©2022 Lumen Technologies. All Rights Reserved.
---
Trending Now
You may also like