What the Future of Work Looks Like
---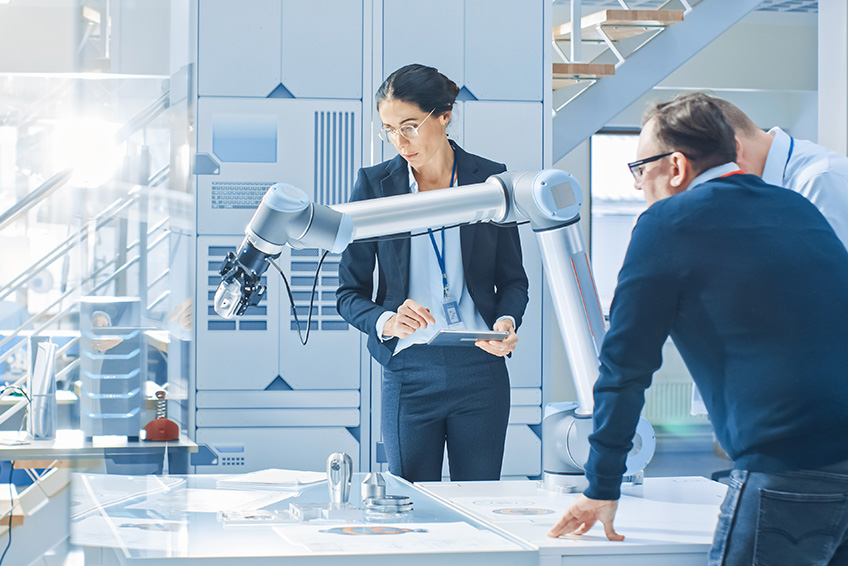 A few years ago, IDC introduced its Future of Work model which is defined as a fundamental and seismic shift in how we work. The Future of Work fosters human-machine collaboration enabling new skills and worker experiences, while supporting a reimagined physical workplace and borderless digital workspace. Watch the video now, or continue reading for the complete transcript.
Essentially, there are three pillars to the Future of Work: augmentation, culture, and space.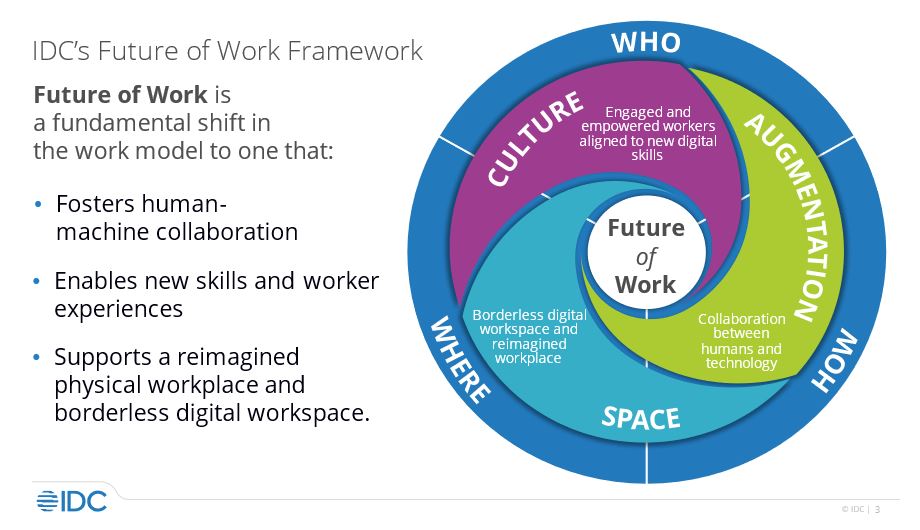 "According to IDC research, investments in work transformation drove highest results in business resilience, followed by benefits in innovation, agility, operational efficiency and so forth. In responding to COVID-19 and related lockdown measures, many organizations rushed to enable employees to work from home as soon as possible. When remote work suddenly increased from a small fraction of the workforce to close to 100%, the challenges – from a technical standpoint (for example, existing VPN connections an organization had) as well as from an organizational standpoint (security policy, for instance) had been paramount.
The "need for speed" has resulted in insecurity and high risks for many organizations. The rash of decisions has also exacerbated the technical debt because companies had to quickly develop new functionality or integrations to systems that supported an all-remote workforce.
---
Technical Debt: Critical technical liabilities from both deliberate and inadvertent decisions about technology priorities, implementation, architecture, governance, and funding.
---
Now that the hybrid work model is here to stay, technology leaders need to review their IT infrastructure, and security to achieve the capability of rapid scalability.
For decades, one of the primary competitive advantages that companies had was adaptability. However, to become adaptable, scalability is the counterpart. Companies could dominate by using the benefits of mass production, distribution, marketing, and back-office operations.
Today, companies have easy access to that sort of scale without owning it. Enterprise companies – often enabled by digital technology, in a "digital first" or "cloud first" model – now compete as effectively as their larger counterparts by excelling in what we call rapid scalability.
---
What is Rapid Scalability?
Simply put, the capability to rapidly scale up and scale down the infrastructure as the business needs change. It implies a strong level of resilience too.
Scalability and Resilience should be top-of-mind and hand in hand.
---
So now, the question is how? What needs to be done?
Achieving rapid scalability requires a security model that scales, is "human-centric", and doesn't depend on physical location.
In the latest IDC Security Servicesview survey, 1/3 of US organizations indicated network security transformation such as secure access service edge is the top needed critical capability to execute an organization's cybersecurity transformation strategy and roadmap. This is closely followed by "redesign the security model" and "cloud migration."
---
Adopting Scalable Technologies Secure Access Service Edge (SASE) and Cloud Requires Adaption of New Security Model to Provide Resilience and Future-Proof Scalability
---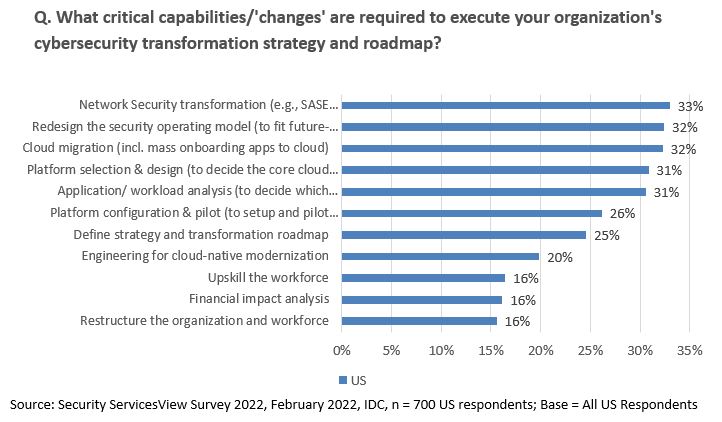 Next Steps
When you are about to embark on the changes or transformation initiatives, it will be best to engage a trusted external advisor who can provide an outside-in perspective leveraging industry best practices to achieve business goals. During this process, technology leaders can then determine which competencies they need to develop and retain in-house, and which ones are best suited for an external provider."
Lumen is proud to operate on an experienced and innovative platform designed for powering next-gen applications, enterprise technologies & systems.
For an opportunity to discuss your business needs, strategy, or even to learn about industry trends, please use the link or QR code to get in contact with your Lumen account manager.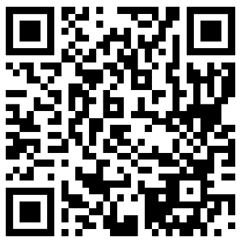 Lumen's Technology Advisory Page
This content is provided for informational purposes only and may require additional research and substantiation by the end user. In addition, the information is provided "as is" without any warranty or condition of any kind, either express or implied. Use of this information is at the end user's own risk. Lumen does not warrant that the information will meet the end user's requirements or that the implementation or usage of this information will result in the desired outcome of the end user. All third-party company and product or service names referenced in this article are for identification purposes only and do not imply endorsement or affiliation with Lumen. This document represents Lumen's products and offerings as of the date of issue. Services not available everywhere. Business customers only. Lumen may change or cancel products and services or substitute similar products and services at its sole discretion without notice. ©2022 Lumen Technologies. All Rights Reserved.
---
Trending Now
You may also like