How cloud collaboration helps speed digital transformation
Posted On October 13, 2023
---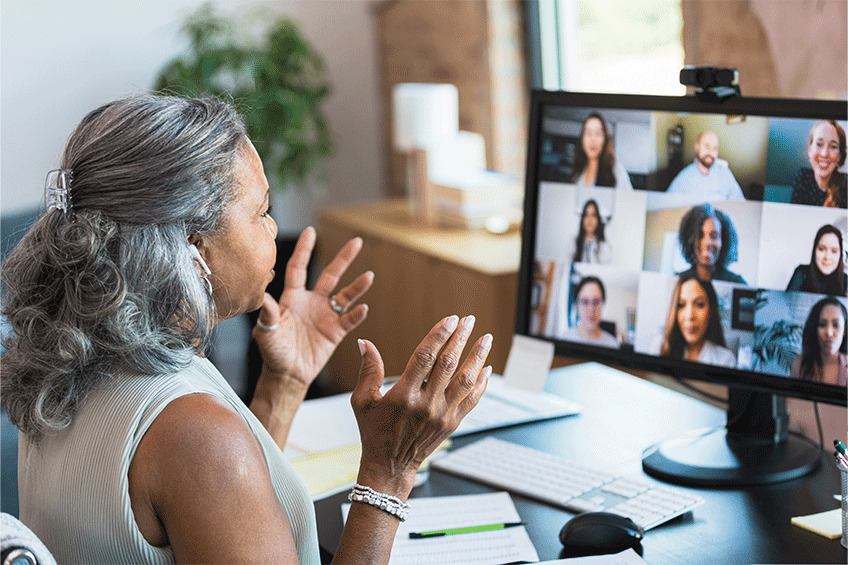 Now that hybrid work arrangements are rapidly becoming the model for many businesses, cloud-enabled collaboration is emerging as a vital component of digital transformation strategies. In this post, we explore how unified communications and collaboration tools (UC&C) can help you pave the way to new levels of performance and productivity.
More than just communication
UC&C tools do much more than connect a distributed workplace. They help to accelerate digital transformation by improving organizational performance, eliminating the complexity of multiple communication solutions and bringing distributed workforces together in a single, integrated experience.
Before you make the transition from a traditional PBX phone system to a cloud-based solution, you need to understand the current landscape, which business priorities you should focus on, and potential outcomes for your business.
An IDC Research survey of IT leaders on their UC&C migration experiences offers valuable insights into how UC&C is helping to reshape the future of work while moving organizations along the path to digital transformation.
Hybrid work is here to stay
UC&C solutions have evolved quickly, especially since COVID-19 shut down offices and forced large numbers of employees into remote work. Companies needed tools to provide consistent, reliable and secure collaboration whether employees worked in the office or remotely.
As business shifted back, organizations realized that offering employees flexibility in how and where they work offers significant advantages, and today, hybrid workforces are the new normal.
43% percent of organizations see remote and hybrid work situations as essential to the business and to their employees. Almost half (47%) of employees can choose to work several days at home or another remote location, although 84% of employees work at least part of the time in the office.1
Supporting employees with reliable voice and collaboration tools no matter where they work is critical for overall efficiency, team effectiveness, employee retention and customer service quality. From voice to video conferencing, UC&C gives hybrid teams what they need to collaborate and achieve business goals while giving businesses the agility to respond to changing business demands.

What to look for in a cloud collaboration solution
Rather than continuing to invest resources in time-consuming legacy systems, forward-looking organizations have sought high-performance UC&C solutions with reliable features and required functionality, along with streamlined management tools and enhanced security.
Most organizations that have successfully navigated a digital transformation did so by embracing a platform that offers:
• Cloud-enabled voice
• Collaboration, including file and screen sharing
• Email
• Chat and real-time presence
• Web conferencing
• Contact center software and services
A modern UC&C platform also offers flexibility by enabling you to keep your on-premises, hardware-based solution in service while you transition to the cloud at your own pace. For instance, you can migrate voice services to SIP trunking over time, addressing the most pressing or logical locations first. With this approach, you'll experience less business interruption and IT strain and help increase efficiency over time as your project matures.
No one-size-fits-all approach to UC&C migration
With hybrid work a reality for the near future, about one-third (34%) of organizations switched to a digital-first strategy.1 Some organizations took a rip-off-the-bandage approach to migrating legacy voice and collaboration services, making a rapid transition and getting everyone up to speed quickly. But that doesn't work in every case because the learning curve and implementation can be more complex than some companies anticipated.
Most organizations (84%) using cloud-based UC&C are satisfied overall with the solution they chose,1 but not everyone is on the same timeline. Where 36% of organizations feel they have adopted extensive use of the cloud and data sharing, 55% are in earlier stages,1 using the cloud for some aspects of communications and data sharing such as simplifying processes for remote workers.
Drive measurable business improvements
Like all new technology adoptions, UC&C solutions need to deliver measurable benefits so that IT leaders and executives can feel confident they have made the right decision. Increased productivity is one key metric—but revenue growth, cost savings, support requirements and customer experience improvements all factor into whether your solution is providing the best possible ROI.
For many businesses, cloud-based UC&C adoption increases employee satisfaction and morale, boosts productivity and results in improved customer engagement.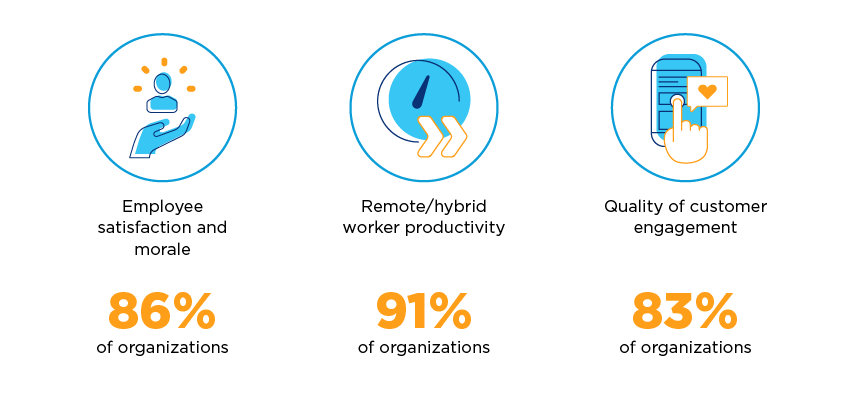 Most businesses that have adopted cloud-based UC&C experience positive outcomes.
It is important to remember that this is a continuous journey, and your organization will experience benefits along the way—including the ability to support new initiatives while saving time on IT operations. You don't need to wait until you complete an extensive migration to see quantifiable improvements.
Future-proof your business as you transform communications
You may be hesitant to upgrade or migrate a communications system that is working just fine. But does fine provide the agility you need to grow or pivot quickly to meet changing demands or respond in a crisis?
Business leaders could not have predicted the unprecedented reallocation of resources they faced during 2020-2021. The business climate is still in recovery as companies work to overcome challenges brought on by supply chain disruptions, staffing shortages and a potential recession. With so many unknowns, technological resiliency is imperative to successfully weather whatever the future brings.
When done right, UC&C can serve as a foundation for enterprise-wide digital transformation. By connecting employees, partners, customers and systems, it has the potential to fundamentally change how you communicate and collaborate as a business—while reducing system complexity, streamlining workflows and offsetting rising infrastructure costs.
Start with the right partner and tools
For your business to remain competitive, digital transformation is essential. If you don't keep up with your more tech-savvy competitors, you could fall behind and face major disruptions.
The good news is that UC&C tools can address key digital transformation requirements and help create opportunities for growth—including operational flexibility, end-to-end customer experience, innovation and even new revenue streams.
When you're ready to get started, Lumen has the UC&C platform and tools you need to support your increasingly hybrid workforce. Whether you plan to update or modernize your communications, our solutions and enablement expertise are designed to help you simplify every facet of UC&C—from deployment and maintenance to support and accounting—while minimizing interruptions to your business.
Check out our portfolio of collaboration solutions to discover how you can accelerate your digital transformation with Lumen Voice and UC&C.
1IDC, Lumen Voice/UC&C Study, March 2022.
This content is provided for informational purposes only and may require additional research and substantiation by the end user. In addition, the information is provided "as is" without any warranty or condition of any kind, either express or implied. Use of this information is at the end user's own risk. Lumen does not warrant that the information will meet the end user's requirements or that the implementation or usage of this information will result in the desired outcome of the end user. This document represents Lumen's products and offerings as of the date of issue. Services not available everywhere. Business customers only. Lumen may change or cancel products and services or substitute similar products and services at its sole discretion without notice. ©2023 Lumen Technologies. All Rights Reserved.
---
Trending Now
You may also like