Unlock the Full Value of Managed Services for UC&C
Posted On September 5, 2023
---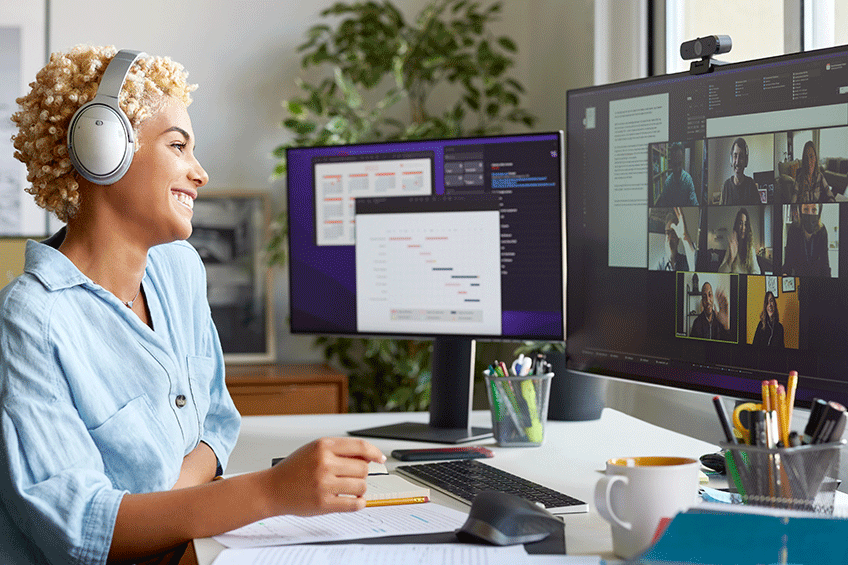 Unlock the Full Value of Managed Services for UC&C
You've probably been hearing a lot of talk about unified communications and collaboration (UC&C) solutions and the slew of benefits they offer—including improved operational efficiencies, greater business resiliency and more satisfying employee and customer experiences. While the advantages are undeniable, making the switch from legacy voice to a cloud-enabled platform may be too complex to handle on your own. If your organization lacks the skills or resources to tackle the project in-house, consider managed services from a trusted UC&C provider to fill in the gaps.
Common obstacles to UC&C implementation
A successful UC&C solution implementation requires thorough planning, coordination and testing—all of which demand considerable time and resources. Many enterprises simply don't have the staff or in-house expertise to implement a UC&C system on their own—a situation that can lead to issues such as:
Disruptions in business and communications during the transition and beyond
Potential cost overruns
Failure to integrate mission-critical business apps with UC&C
Security questions and concerns
According to a 2022 IDC survey, 7 out of 10 IT leaders see themselves as very or extremely prepared for UC&C, specifically when it comes to planning, implementation and operation. Yet despite their readiness, leaders ultimately need help from managed services providers for many aspects of their projects.1
Managed services are especially valuable for the 53% of organizations using or considering more complex, hybrid on-premises and cloud-based deployments, which can place greater strain on IT teams.1
Managed services combine people and expertise
Whether you're relying solely on legacy technology or have an existing UC&C solution in place that needs to be upgraded, partnering with a managed service provider makes good business sense and is cost effective.
Ask nearly any organization that decided to handle UC&C fully in-house about the process and you'll hear about challenges such as:
Decision paralysis, where everyone talked about the need for UC&C but it never took off
Projects that started then stopped because staff lacked the right skills or were needed on other projects
A project timeline that ran over the initial plan by years, forcing the team to re-evaluate the latest technologies
Still others were forced into a hurried decision due to the pandemic and are now taking a more organized approach to evaluating their situation and course correction.

A managed service provider (MSP) brings technology and industry expertise you may not have on hand and can help you overcome myriad migration challenges. That expertise is key to helping you select the best solution, minimize disruptions during implementation and deployment, and bring the project to completion on time and within budget.
If you're thinking about engaging an MSP—whether for help with specific aspects of UC&C or to manage your implementation from end to end—you're in good company. IDC found that 76% of organizations considering UC&C adoption are very or extremely interested in working with a managed services provider. That percentage increases to 96% for companies already using UC&C solutions.1
Advantages of an all-in-one managed UC&C solution
Once you've made the decision to work with a service provider, it's important to choose the right one.
Lumen® Enablement Services for UC&C are designed to simplify every stage of your project, from adoption and planning through post-deployment maintenance.
Choose from a bundled service offering or individual services as needed. For example, you can use Lumen Enablement Services for UC&C for the initial implementation, and then add ongoing maintenance down the road to free your staff to work on new initiatives. Or you may be looking for guidance on whether Cisco Webex, Zoom, Microsoft Teams or a combination of tools will meet your current and future needs.
Our UC&C experts can help you make the right decision, then handle the implementation, integration and data transfers so your employees have everything they need once your new solution is up and running..
With more than 30 years of experience deploying and managing networking and communications solutions, we bring the expertise, people and training to help you succeed—from Lumen engineers who can perform necessary integrations with your on-premises infrastructure, to technical staff skilled in managing and configuring critical UC&C cloud services such as Session Border Controllers and tenant cloud collaboration instances.
You may be like the 8 out of 10 (84%) organizations already using a cloud-based UC&C solution who expect to continue their current spend or increase it over the next year or two.1 The good news is that with our managed services for UC&C, you'll never be hit with unexpected costs. You can purchase services as a one-time expense or on a monthly subscription basis, providing cost transparency and a way to budget realistically.
And, by implementing your end-to-end solution through a single vendor and point of contact, you can save time, money and resources that you can invest in your core business.
Ready to start your journey to streamlined communications and collaboration? Learn more about how Lumen Enablement Services for UC&C can set you up for success.
1IDC, Lumen Voice/UC&C Study, March 2022.
This content is provided for informational purposes only and may require additional research and substantiation by the end user. In addition, the information is provided "as is" without any warranty or condition of any kind, either express or implied. Use of this information is at the end user's own risk. Lumen does not warrant that the information will meet the end user's requirements or that the implementation or usage of this information will result in the desired outcome of the end user. This document represents Lumen's products and offerings as of the date of issue. Services not available everywhere. Business customers only. Lumen may change or cancel products and services or substitute similar products and services at its sole discretion without notice. ©2023 Lumen Technologies. All Rights Reserved.
---
Trending Now
You may also like