Using Technology to Blend Home and Office Workplaces
---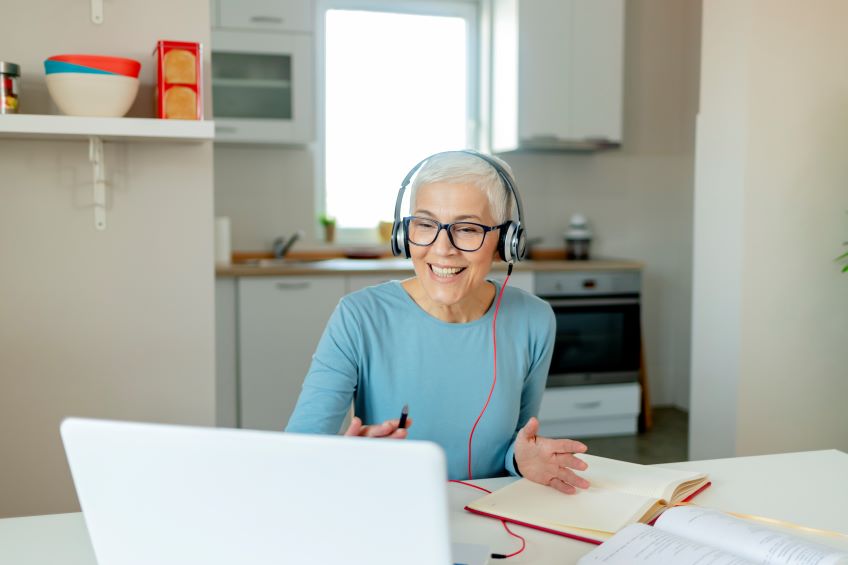 Employees have worked at home regularly or at another location away from the office for years, but not in large numbers. In 2018, only 13% of employees worked remotely most of the time.1
The sudden shift in 2020 changed that. Not only did most of us become work from homers, we had to adapt to a workplace that didn't include all of the tools and functionality to which we were accustomed. Managers and IT staff did their best, choosing technology to support employees and implementing it quickly. But some of it didn't work as well as expected, especially regarding communications, causing many employees to feel out of the loop.
That's changing. The lines that separated remote employees and office employees are blurring. Now we have time to "do it right."
Hybrid environments
Many employees are heading back to the office while others continue to work mainly from home, and each group may spend time in both places. That's probably not going to change anytime soon.
Managers have accepted that employees can be highly productive outside of the office, without constant oversight, and employees are more satisfied now that they have more control over where and how they work. Because of this, about 50% of businesses are expected to keep flexible work policies to support the hybrid work environment.1
Companies need technology that provides a uniform, seamless communications and collaboration experience to support employees wherever they are, from whatever devices they use. Employees need the freedom to work from home or the office without losing unified communications and collaboration (UC&C) features or functionality because the remote version is "lite."
Interoperability
Many companies have more than one tool for certain types of communications. For example, companies that use a UC&C platform often let employees use another conferencing tool, too. Employees often develop a preference – they get used to a tool's look and feel or specific features – and once that occurs they're hard-pressed to give it up.
Whether a company chooses one or multiple tools, they must meet the following requirements to lower the risk of work disruption:
High quality: Any tool must be high quality. Although inadequate bandwidth and network connectivity issues are often the cause of a poor video conferencing experience, the tools themselves should be designed for ease of use, be as bug-free as possible and offer a comprehensive feature set.
Compatibility: This refers to the capability to function properly with devices. Employees want "easy." With a plethora of mobile phones, headsets, microphones, webcams and other communications devices choices, a communications tool needs to work with a wide variety of them automatically.
Interoperability across platforms: The tools must work with one another for a seamless experience. For example, employees should be able to schedule a video conference from their calendar software, whether the conferencing tool is built in or third party. Switching back and forth between solutions is time consuming, and it lends itself to errors.
Security and compliance
Security around digital communications is a high priority today. Tools must allow for the control of video conferencing to avoid the potential for unauthorized users to join and disrupt meetings, and they must be designed to help prevent eavesdropping and other security breaches.
For example, video conferencing should include an option for end-to-end encryption to help protect communications between users and the server. Waiting rooms enable hosts to control which users are allowed to join meetings, and screen-sharing management lets hosts restrict screen sharing to participants they choose.
There's also a need for some mechanism to be in place, which might be a policy, to help ensure that employees do not intentionally or inadvertently expose private information while in conferences and while chatting.
Lumen and Zoom have you covered
Lumen and Zoom have partnered to provide businesses with a secure, simple and effective way to engage with customers, partners and employees virtually anywhere, from any device through Zoom's video-first unified communications platform and backed by Lumen's IP-centric network and UC&C expertise.
Lumen and Zoom provide what you need to support employees in the office or remotely. Learn more about what to expect as we return to the workplace.
1 Spiceworks Ziff Davis, Covid–19's impact on IT: Tech trends before, during and after the crisis
This content is provided for informational purposes only and may require additional research and substantiation by the end user. In addition, the information is provided "as is" without any warranty or condition of any kind, either express or implied. Use of this information is at the end user's own risk. Lumen does not warrant that the information will meet the end user's requirements or that the implementation or usage of this information will result in the desired outcome of the end user. This document represents Lumen's products and offerings as of the date of issue. Services not available everywhere. Business customers only. Lumen may change or cancel products and services or substitute similar products and services at its sole discretion without notice. ©2021 Lumen Technologies. All Rights Reserved.
---
Trending Now
You may also like