The Value of CCaaS through a Network Provider
Posted On December 6, 2022
---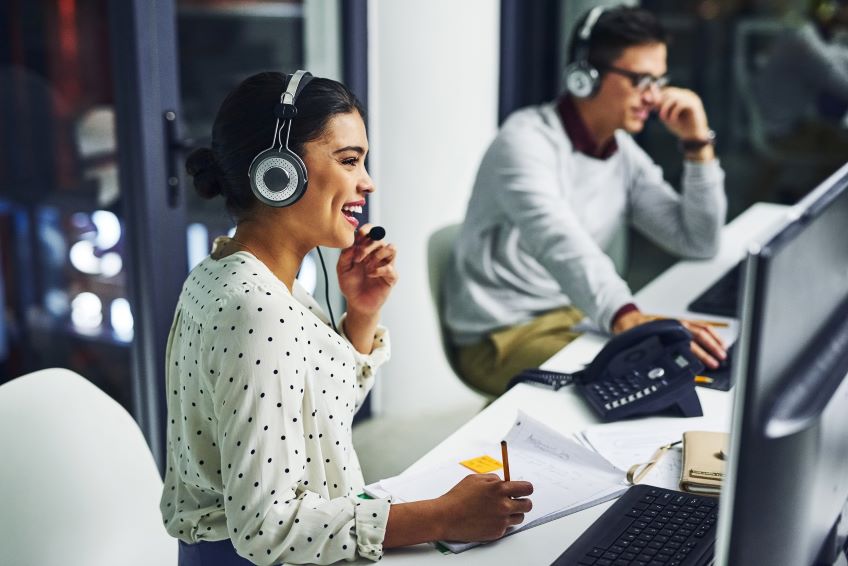 When you think of a contact center you might envision hundreds or thousands of agents (aka brand ambassadors) all in the same room or building, wearing headsets and taking calls over a computer. Things are changing. Today, Contact Center as a Service (CCaaS) is gaining traction. These virtual contact centers are hosted in the cloud and route calls to agents wherever they work, allowing for a decentralized workforce.
Partnering with leading contact center providers enables us to offer Lumen® Solutions for Contact Center – Genesys Cloud, a customer contact solution that is cloud based and easy to set up and use. The solution combines key contact center applications and features, such as customer emotion detection, artificial intelligence, personalized inbound routing and reporting and analytics, all integrated with our expansive networking technologies.
Why use Lumen for CCaaS?
We bring over 30 years of experience to networking and the contact center space. Over two decades ago, before cloud contact centers even existed, we began by elevating a traditionally premise–based contact center solution into our hosted network platforms. This offering provided an invaluable, unique perspective in the marketplace to learn solutioning, such as how to best route calls, minimize caller wait time and provide a continuous cycle of customer interaction improvement, all from the network perspective. This experience afforded Lumen organic knowledge and an intrinsic expertise in contact center interactions, as well as leveraging a network's capital and geographic footprint towards empowering contact center in the cloud.
An April 2022 Metrigy research study asked organizations what value they see with using a carrier for CCaaS. The top responses included:
Better network performance and reliability
Professional services they offer
Lower costs
Additional network security capabilities
Lumen provides all of these benefits, and more. We offer essential capabilities and enrichments that are hard to find with another provider:
Core transport: The Lumen network has a national footprint with a huge geography in scale and a backbone that is resilient and highly redundant. Being both the network and cloud provider provides the impetus for a high degree of customer confidence because you have the best field of vision for your contacts.
Cradle to grave reporting: Our reporting begins when a customer initiates a call to the CCaaS, rather than when a CCaaS agent picks up the call. We can see all pre–contact center components of a call and see it all the way through the network. Essentially, you get a value-add before the call is received by an agent.
Extraordinary focus on voice quality: CCaaS hinges on the quality of a voice connection, for both live interactions and call recordings. For example, sentiment mining and call quality analysis involve the system listening to the tone of a call and taking action based on real-time analysis, such as alerting a supervisor if they need to assist an agent who is live with a customer. Voice quality is also crucial for the ability to perform keyword searches within audio, which allows agents to reference key information in real time. High-quality voice is required for call recording to be archivable and used for teaching purposes.
Proprietary capability to attach contact center to universal communications tools: It is common for CCaaS platforms to provide connectors for third-party, value-added services, such as Zoom and Microsoft Teams. However, the Lumen network guides you through connecting to those apps, and because we can see the connection through our network, we can efficiently resolve issues.
Security: Caller identity is validated and authenticated, helping to prevent malicious caller ID spoofing. And because we own our network, our tools can access the entire network, enabling a deeper view for troubleshooting as well as real-time monitoring and risk assessment scoring to proactively avoid issues.
Customers also get the convenience of a single point of service level agreement (SLA), allowing them to handle tiered support issues through one person regardless of the source. The same principle applies to procurement. You will work with a single account team to procure services through a master services agreement (MSA), which can help reduce the overall procurement process for contact center services. Aggregating network and contact center spend can also help you achieve better discounts.
Learn more about CCaaS through Lumen on the Genesys Cloud Contact Center page and additional call center apps on the Network Services & Applications page (an additional fee may apply).
This content is provided for informational purposes only and may require additional research and substantiation by the end user. In addition, the information is provided "as is" without any warranty or condition of any kind, either express or implied. Use of this information is at the end user's own risk. Lumen does not warrant that the information will meet the end user's requirements or that the implementation or usage of this information will result in the desired outcome of the end user. All third-party company and product or service names referenced in this article are for identification purposes only and do not imply endorsement or affiliation with Lumen. This document represents Lumen products and offerings as of the date of issue.
---
Trending Now
You may also like