Empathy: The key to a great customer experience
Posted On October 5, 2021
---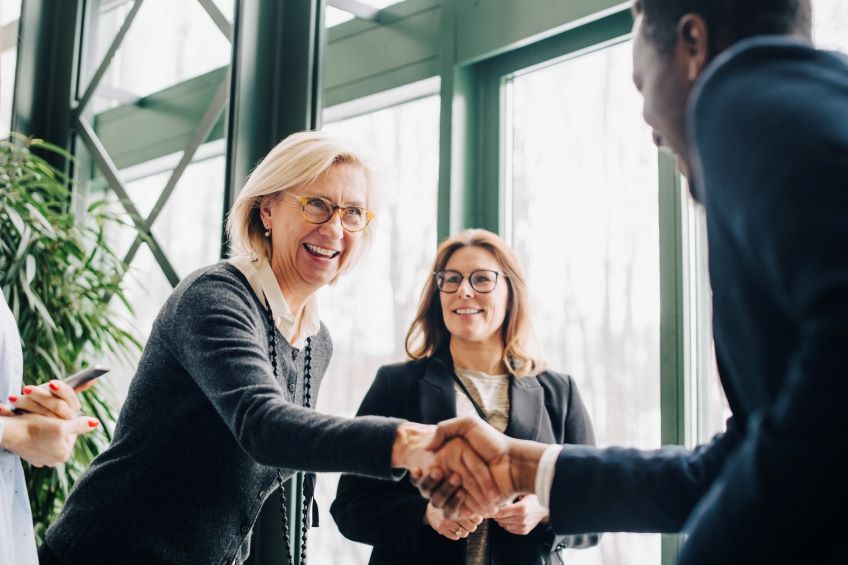 Mallory Weggemann was only 18 when she became paralyzed from the waist down after a routine epidural injection went terribly wrong.  She went from preparing for what life after high school graduation would hold to being unable to walk. Yet the swimmer rebuilt her life and won a Paralympic gold medal. Then she suffered a fall that caused devastating injury to her left arm.  Again, she worked her way back. Now, Mallory is ready to win again.
Today, as we observe International Customer Experience Day,  Mallory will deliver the keynote address to kick off our celebration at Lumen. Some may wonder what a Paralympic medalist can tell us about customer experience, but the connection is clear:
It's empathy.
"Empathy is about consciously choosing to see others' perspectives, understanding that we all have various circumstances that we carry and different experiences that make us who we are," Mallory says.
In Lumen's world, the ability to understand and share the feelings of others from their frame of reference is at the heart of the experience we want all our customers to have.  It is the way we connect with our customers to create personal and meaningful – and lasting – relationships.
The key to the customer experience
Most of us can remember a time when we've had a great customer experience. We felt that someone took the time to really understand us and responded with an answer or solution that filled our need.  That customer-centric view of the world is what we strive to achieve at Lumen, and why we are celebrating it today.
When we act with empathy, we are looking through the eyes of our customers. We're curious: What do they want and value in this moment of time? What is the cause of their concerns? What can we do to make their lives easier?
This mindset is not just for people who interact directly with customers; the customer experience begins long before a customer reaches a frontline employee. Customer empathy is being woven into the way we design our business systems and processes and digital experiences. It guides us as we develop and deliver our products and extends well beyond purchase.
Can technology convey empathy?
It is interesting that empathy is increasingly important to customer experience at a time when customers are doing more business online, without ever speaking to another human being.  Yet even our technology can convey empathy.
Lumen's purpose, to further human progress through technology, is based on helping our customers collect, analyze and act on data. We take that purpose to our own heart as we design our solutions and digital interactions to deliver what our customers have told us they want: Secure and convenient applications that provide simple, comprehensible and easy experiences.
Technology also allows our people to engage with our customers in the right way. It empowers them to deliver an exceptional experience through the use of customer databases and intelligent systems and tools that help us give our customers what they want.
Making empathy work
Some people have a natural ability to see the world through other people's eyes. For others, it's an ability that comes through education and training. That's why at Lumen we've embarked on a multi-year training curriculum for all employees. Our goal is for empathy to be pervasive throughout our company as we head into a future in which the customer experience becomes more important than ever.
While our customers' needs, wants and values may vary, the mechanics of empathy are universal:
Cognitive – Understanding how a customer or colleague feels and what they might be thinking.
Emotional – Feeling what the customer or colleague is feeling, as though their emotions are contagious.
Compassionate – Acknowledging and validating emotions. Walk in a customer or colleague's shoes. Taking the time to truly understand a person's predicament and confirm their feelings.
So, on this International Customer Experience Day, we celebrate empathy and its power to transform the customer experience. When all is said and done, we want our customers to say, "You understand me and are going to help me get what I need."
Or, as Mallory Weggemann says, empathy is extending grace and creating a space where we celebrate one another's differences and allow our differences to unify rather than divide."
This content is provided for informational purposes only and may require additional research and substantiation by the end user. In addition, the information is provided "as is" without any warranty or condition of any kind, either express or implied. Use of this information is at the end user's own risk. Lumen does not warrant that the information will meet the end user's requirements or that the implementation or usage of this information will result in the desired outcome of the end user. ©2021 Lumen Technologies. All Rights Reserved. 
---
Trending Now
You may also like