Gradual Transformation to Secure Cloud Operations
Posted On October 9, 2023
---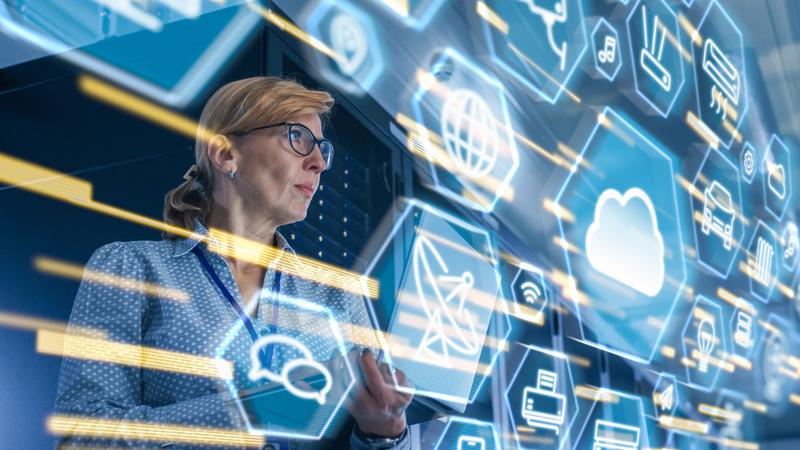 Embracing Cloud-first Operations
Every business is on a transformative journey to meet the demands of a digital era aimed at delivering a consistently available and seamless experience that aligns with customer and employee expectations. The accelerated shift to the cloud is pushing organizations to reevaluate the state of their current legacy network and security infrastructure and assess their preparedness for a new generation for software-defined service offerings that are quickly becoming the "new norm".
This change is universally impacting not only the way a business chooses to operate, but, more importantly, the need to respond to the way customers choose to consume their products and services. In response to today's economic landscape, cloud leaders say they are increasing their use of cloud-based services and products (41.4%), planning to migrate from legacy enterprise software to cloud-based tools (33.4%), and migrating on-premises workloads to the cloud (32.8%). This transformation to cloud applications does not come without challenges.
The Hesitation: Security Concerns in Cloud Migration
Security remains top priority when transitioning from a WAN to the world of cloud services. Challenges arise from the lack of visibility into the use of unapproved networks, endpoints, and applications, further expanding the vulnerabilities within the threat landscape. Each of these threats serve as a potential entry point into the corporate network frequently accessed by remote workers via VPN connections, with specific emphasis on ransomware and DDoS attack vectors. Research from Incisiv indicates that a staggering 72% of companies lack a comprehensive strategy and roadmap for establishing a distributed work model. Few organizations are ready to make this jump without a carefully planned transformation strategy. Instead, most businesses are opting for a solution that can protect both their current infrastructure and the new cloud environment, customized to their needs.
The Bridge to Secure Cloud Applications
To address these concerns, a bridge needs to be established between the current WAN and cloud applications that provides a level of confidence that all information and data shared is visible to administrators and secure based on pre-defined policies. To manage this bridge, visibility and control must be centralized and simplified to meet the evolving needs of users and their devices.
This transition process can be quite intricate and overwhelming for administrators as they navigate through these changes. In fact, research shows that 63% of IT managers report working more hours now than before the pandemic. This is where Secure Access Service Edge (SASE) solutions steps in as a valuable solution, aiding organizations in the transition to a secure cloud application and data experience for your entire workforce while cutting the cost of IT complexity.
Simplifying the Transition with Lumen SASE
Corporate IT and security administrators now have access to an arsenal of tools that solve the new challenges facing them. Lumen SASE Solutions with Security Service Edge offer flexible, fully managed solutions designed to facilitate secure cloud application and data experience for the entire workforce – whether in the office or at work virtually anywhere. Lumen SASE solutions offers a comprehensive suite of security services that include:
Zero Trust Network Access (ZTNA): ZTNA is designed to provide the secure segregation of corporate data and cloud network access by user, endpoint, and network permission and profiles.
Cloud Access Security Broker (CASB): CASB is focused on cloud application data permissions management and protection.
Secure Web Gateway (SWG): SWG protects against internet-borne viruses and malware resident in web experiences.
Data Loss Prevention (DLP): DLP serves as a safeguard against unauthorized usage, sharing, transport, and access to sensitive data, providing protection for valuable information.
Firewall as a Service (FWaaS): FWaaS provides protection of branch locations, stopping threats before they impact your business.
Adoption of Lumen SASE elevates the level of security necessary to support your cloud migration journey, instilling confidence within your organization. Lumen partners with leading vendors: VMware, Fortinet, and Versa, to carefully align the right capabilities and platform familiarity to your administrative capabilities. We are committed to digitally connect people, data, and applications — quickly, securely, and effortlessly. We fulfill this mission by managing more for our customers.
Pro-managed service is just one example. We have an entire team of seasoned professionals dedicated to the successful implementation, set-up, and ongoing support of our entire SASE solution — including our partners. Lumen collaborates with you to establish your application and security policies within our supported partner portals. But that is only the beginning of our support. We monitor and manage your entire solution throughout your contract life. Paired with Lumen SASE Manager, which provides you with the tools to effortlessly incorporate new sites and features independently, you benefit from a comprehensive experience. This provides the efficient management of your network, equipment, software, and partnerships, for a worry-free transition.
Lumen stands ready to address all your requirements and pain points throughout the cloud migration process, offering this comprehensive suite and expertise to ensure your journey isn't just secure but also flexible enough to add and grow your features at your own pace. Lumen embraces a "grow-as-you-go" adoption approach of cloud-based security services, offering fully managed hosting, monitoring, updates, and configuration with centralized visibility and control of your security policies.
Discover how Lumen SASE can empower your organization to make a seamless and confident transition to the cloud.
This content is provided for informational purposes only and may require additional research and substantiation by the end user. In addition, the information is provided "as is" without any warranty or condition of any kind, either express or implied. Use of this information is at the end user's own risk. Lumen does not warrant that the information will meet the end user's requirements or that the implementation or usage of this information will result in the desired outcome of the end user. All third-party company and product or service names referenced in this article are for identification purposes only and do not imply endorsement or affiliation with Lumen.
---
Trending Now
You may also like