Edge Computing Drives Innovation and Efficiency Across Industries
Posted On December 17, 2020
---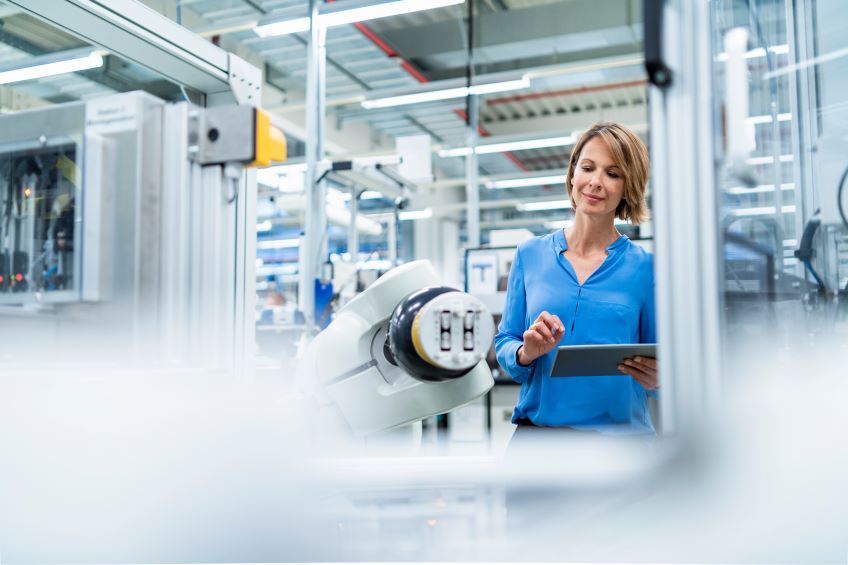 From enabling robotics use cases to extending IoT capabilities on existing equipment, edge computing provides companies with a new level of IT proficiency across multiple industries. By allowing better data access and processing at the source, smart edge is improving the availability and performance of emerging applications, which in turn drives the next generation of digital experiences for manufacturing, healthcare, retail, and banking – to name just a few.
Given the volume of data currently generated in every industry, it is now crucial for businesses to ensure that workloads are automated, secure, and performing at an optimal level. Edge computing addresses these needs by managing the highest concentrations of digital interactions that don't require on-premises infrastructure. Why send a workload to the data center if it can respond faster at the edge?
Edge computing enables data to be distributed, processed, and consumed closer to users' locations, where latency issues and availability really matter. Edge can accelerate customer-facing application delivery and consumption, and lead to faster decision-making.
In the public sector, edge computing has allowed city governments to install video cameras that gather gigabytes of data from motion detection sensors and facial tracking devices and rather than ship all of that data to a remote processor it is processed locally at the network's edge. This sector collects data from devices, buildings and assets that is processed and analyzed to monitor and manage traffic and transportation systems, power plants, utilities, water supply networks, waste management, crime detection, information systems, schools, libraries, hospitals, and other community services.
In the manufacturing sector, edge computing allows manufacturers to filter data to reduce the amount they must send to a central server, either on-site or in a cloud. The ability to monitor the condition of their assets remotely helps manufacturers generate new revenue streams by identifying opportunities.
The healthcare industry is using intelligent edge to manage the massive amounts of Patient Generated Health Data (PGHD) coming from IoT medical devices such as wearable sensors, blood glucose monitors, and healthcare apps. This puts critical patient information at medical professionals' fingertips in an instant and allows them to better diagnose problems and monitor patient health over long periods of time.
Retailers are improving customer experiences with edge computing, which allows them to access key information, such as purchase histories, in real time. Marketers can connect with current and potential customers and recommend new products or offers based on up-to-the-minute purchasing data. Information gathered through edge computing helps retailers understand how customers behave online and in the store.
The financial services sector benefits from the security features of edge computing. It helps banks protect mobile applications, distributed web applications, and media distribution and optimization with robust web application firewalls, bot managers, and API protection. And edge computing can prevent the flooding of networks with a distributed denial of service mitigation capability that allows maximum available capacity for internet ingestion.
The highly dynamic Lumen network, for example, has edge locations across the globe. It is designed to deliver latency under five milliseconds, real time provisioning, and a bridge through its Cloud Connect Dynamic Connections solution to Microsoft Azure, Amazon Web Services, Oracle, IBM, and Google Cloud. Edge computing with the Lumen network helps businesses optimize their operations, allowing them to properly distribute their workloads and combine edge computing solutions with comprehensive and scalable hybrid cloud platforms.
To boost overall customer experiences, enterprises should pursue edge computing. It enables data and workloads to be processed closer to the users, greatly reducing latency and improving user experiences. Edge can deliver applications and data faster, helping people find insights and act on opportunities quickly. No matter what industry you are bringing into the future, if your business is asset- and/or interaction-intensive, and relies on low latency, high availability and security, edge computing is an essential component of your IT strategy.
Learn more about Lumen Edge Compute Solutions and how they can support your organization's unique needs.
Watch our latest video on Edge Computing in manufacturing.
This content is provided for informational purposes only and may require additional research and substantiation by the end user. In addition, the information is provided "as is" without any warranty or condition of any kind, either express or implied. Use of this information is at the end user's own risk. Lumen does not warrant that the information will meet the end user's requirements or that the implementation or usage of this information will result in the desired outcome of thee end user. This document represents Lumen's products and offerings as of the date of issue. Services not available everywhere. Business customers only. Lumen may change or cancel products and services or substitute similar products and services at its sole discretion without notice. ©2020 Lumen Technologies. All Rights Reserved.
---
Trending Now
You may also like