Dedicated Internet Access Vs. Broadband: Speed And Security Win The Day
Posted On September 15, 2022
---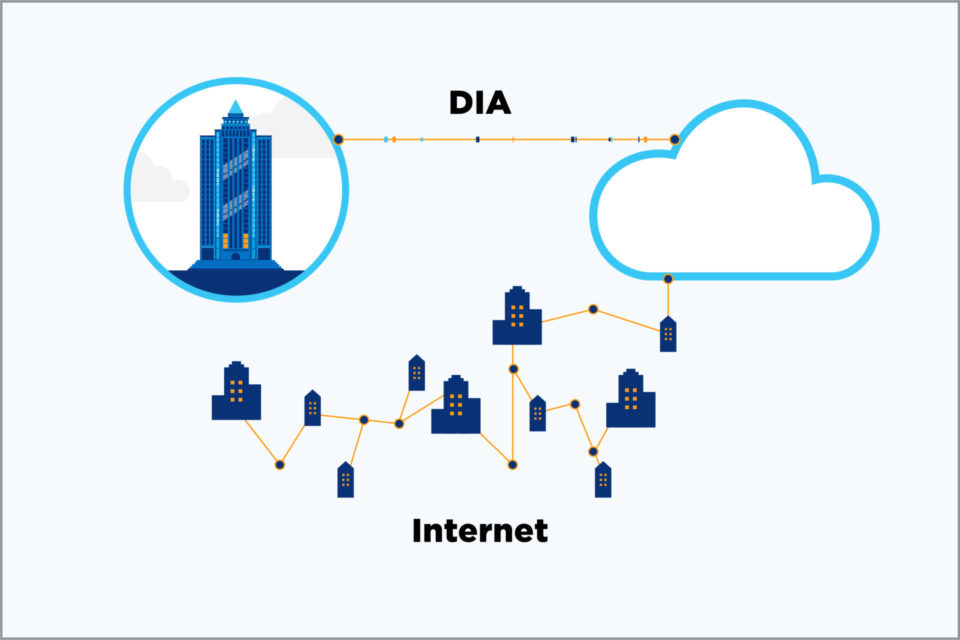 High-speed, low-latency connectivity is vital to enterprise business today. From connecting with your customers to conferencing to accessing your cloud applications, the speed and quality of your internet connection has an important impact on your ability to compete today—and grow tomorrow. So it's not surprising that regional and global businesses are looking at Dedicated Internet Access (DIA) and broadband and asking which best serves their data, security and customer experience needs.
Let's take a look at two types of business internet services and compare their key features and benefits to help you decide which is right for your business.
Broadband vs. Dedicated Internet Access
Internet service is far from a commodity. Choosing the right internet service is an increasingly important business decision. The two heavyweights in this arena are broadband and Dedicated Internet Access. Let's see how they stack up.
What Is Broadband?
Broadband is wide bandwidth data transmission, with many users sharing always-on, high-speed internet access via fiber, DSL, cable, satellite or other media. Bandwidth speeds are typically asymmetrical—meaning uploads and downloads have different speeds. Speed (reported as maximum) is determined by the amount of traffic among many users, and it varies from one time of day to the next.
What Is Dedicated Internet Access (DIA)?
Dedicated Internet Access, by contrast, is an internet connection that goes directly to your business. It isn't shared with neighboring buildings or users that can drain critical bandwidth. Providers dedicate a certain amount of bandwidth to a specific connection, usually through dedicated fiber, Ethernet or T-1 cable.
With DIA, you get a consistently high-performing symmetrical connection to public cloud applications, remote offices, data centers and more. The performance levels are typically backed by a service level agreement with your provider.
DIA is ideal for real-time, data-intensive applications like video and voice, where speed, reliability and security are vital. And since the connection comes from a single provider, troubleshooting is usually easier—and quicker—than with shared-access alternatives.
| | | |
| --- | --- | --- |
| | Dedicated Internet Access (DIA) | Broadband |
| Upload/download speeds | Symmetrical speeds backed by an SLA | Asymmetrical, speed determined by total traffic |
| Internet Bandwidth | Dedicated to your business | Shared with your business and others in network |
| Delivery | Dedicated fiber | Fiber, DSL, cable, satellite, etc. |
| Support for IPv4 and IPv6 | Yes | No |
| Security | Provides additional threat protection | More vulnerable to intrusion |
Which One's Best For My Business?
There are a number of reasons why businesses are looking to switch to DIA. Stable, always-on customer experiences and next-gen applications like artificial intelligence (AI) and machine learning (ML) depend on fast, reliable internet. Remote teams need symmetrical uploading and downloading for collaborating, file sharing and conferencing. Downtime is more costly than ever. And the need for more and more bandwidth continues to grow over time.
DIA is the way to go if your business demands:
Stable, secure internet connections
Fast, uniform upload and download speeds
Exceptional customer experiences despite high-content demands
High-end security protection against network attacks
Top internet destinations and cloud-based applications for efficient management of business growth
Efficient, reliable infrastructure to support market expansion, eCommerce applications and other rich website content
Support for Pv4 and IPv4 / IPv6 dual stack
If DIA seems like the best way to keep your business running at full speed, look for a network provider that delivers these benefits, backed by the power of a reliable, secure global network. Of course, if your needs are simpler—or budget is an issue—broadband/fiber may be a viable alternative.
Why Lumen® Dedicated Internet Access?
At Lumen, we know you need an internet connection that exceeds expectations, along with a provider that offers comprehensive solutions for your business requirements. Lumen® Dedicated Internet Access (DIA) combines vital business internet features with maximum global reach and scalability, including:
Upload and download speeds up to 100 Gbps
Approximately 400,000 global route miles of fiber
6,300+ interconnects1
The Lumen global fiber network with built-in security backed by Black Lotus Labs
>60% of traffic stays on the Lumen Network
24/7 network security monitoring
Minimized lag, low latency and enhanced scalability
Streamlined operations such as flexible access and billing options
What's more, Lumen has been ranked as the #1 peered global network, based on our number of direct and indirect customers, by the Center for Applied Internet Data Analysis (CAIDA).1
Learn more about Lumen Dedicated Internet Access and explore bandwidth options today.
1The Center for Applied Internet Data Analysis, AS Rank, December 2022.
This content is provided for informational purposes only and may require additional research and substantiation by the end user. In addition, the information is provided "as is" without any warranty or condition of any kind, either express or implied. Use of this information is at the end user's own risk. Lumen does not warrant that the information will meet the end user's requirements or that the implementation or usage of this information will result in the desired outcome of the end user. This document represents Lumen products and offerings as of the date of issue.
---
Trending Now
You may also like