Unified Communications Platform Providers: A 6-Step Buyer's Guide
---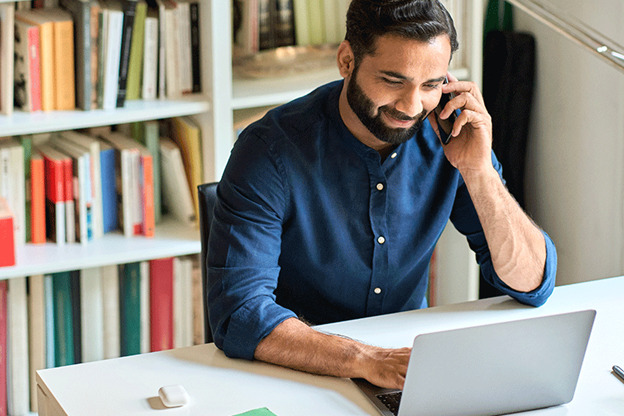 Cloud-enabled communications are the new standard for organizations that want to be agile and competitive. If you've been putting off upgrading your legacy systems because you think it's too complicated, or you aren't sure which vendor or solution to choose, then you're missing out on big productivity and cost savings benefits. Read our six-step buyer's guide for tips to help you find your ideal unified communications platform provider—and start reaping the rewards across your enterprise.
The future of business communication is in the cloud
The rise of unified communications (UC) platforms has helped redefine how and where people work. Cloud-enabled solutions demonstrated their value when organizations that were already using them were able to quickly pivot to remote work without disruption during COVID-19—while those who were less prepared struggled to stay connected and remain productive.
Now, as the workplace quickly becomes more virtual than physical, cloud-based communications are vital to remain competitive and future-ready. Demand for UC platforms to support remote workforces has exploded, and for good reason. Regardless of where organizations are in their migration from legacy communications to next-gen voice and UC&C in the cloud, benefits to the employee and customer experience are impressive—including improved ability to meet business demands, adapt to the unexpected and deploy new communications technologies.
Yet even while remote and hybrid work models continue to grow, some organizations have been slow to make the transition to cloud-enabled communications, focusing instead on their premises infrastructure. That's understandable. Cloud migration is a big, complex project for any company. But the challenges are manageable—especially when you know what to look for in a solution and vendor.

6 must-have capabilities for UC&C providers
With so many vendors promising unified solutions, it's hard to sift through them all to find the one that can actually deliver what you need.  To help you find a solution that will help you realize bottom-line benefits, we've broken down what to look for in a potential vendor and why it's important.
1. Communications network expertise
You probably have an assortment of PBXs, conference bridges, SBCs, video MCU and other equipment on your back end. And over time, these core network elements have changed for any number of reasons. A mature UC provider is technology and hardware agnostic and can work seamlessly with technology changes throughout your core network.
2. Customizable options
No two organizations have the same UC&C requirements. If your business is a large enterprise, you may prioritize brand recognition and prefer to opt for a trusted provider with expertise delivering services in large environments. But if you're a small or mid-sized organization, consolidating your contracts and services with one provider may be your primary goal.
On the other hand, you may want to focus on functionality, including or excluding certain features or controls or integrating business capabilities driven by proprietary enterprise systems. Ultimately, the solution you choose should offer best-fit features and functionality rather than a one-size-fits-all approach you cannot easily configure or modify.
3. Extensive tools and resources
Look for a provider with deep experience in planning, designing and migrating complex solution mixes, seamlessly integrating them with your current environment so your IT teams are free to focus on innovation, not app integration. You'll also want a partner with extensive certifications and deep relationships with leading technology providers, combined with an understanding of the constantly evolving technology and business trends that impact your business.
4. Common platform and interface
Select a UC provider that is capable of operating on any common client technology platform and has a similar interface across all devices and operating systems. This allows your users to transition from one device to another without additional training or confusion about the interface—ensuring that quality remains high.
5. Unbiased focus on future technology
A UC provider that is quick to embrace emerging technologies will provide your organization with a greater range of infrastructure flexibility. This also places the engineering work, software upgrades, feature development and security enhancements with the vendor, rather than your organization.
6. Easy installation and management
Simplicity is vital to ensure deployment, provisioning and maintenance do not result in downtime or place an unnecessary burden on your IT and support staff. But you also need to think beyond deployment to consider how you will manage your new solution. Too often, businesses end up spending too much time managing disparate systems from different vendors that weren't built to seamlessly work together. When evaluating platforms, make sure you'll only have to deal with one vendor and account, so your communications system runs as efficiently as possible.
Business outcomes matter
Look for a vendor that meets as many of these requirements as possible and evaluate potential solutions based on your desired business outcomes. For example, if your top goals are revenue growth and increased employee productivity, focus on vendors with documented customer success in those areas.
In a 2022 IDC survey, organizations using cloud-based UC&C—including those with minimal or limited technological connectivity—reported substantial savings and cost optimizations. Up to 90% found they could effectively support new IT/business initiatives, while more than 60% experienced IT staff time savings due to more efficient business operations.1
Partner with a network and communications leader
When you're ready to modernize your communications and collaboration tools, turn to a trusted partner with 30+ years of network management and communications network experience to help you navigate the complexities and reap the benefits of UC&C across your business.
Lumen has the next-gen voice and UC&C solutions you need for integrated communications and collaboration for whatever your business model looks like—office based, remote or a hybrid environment. Plus, we offer a range of enablement services from adoption to connectivity to maximize ROI from your communications upgrade, all expertly managed on the #1 peered network.2
Take our short quiz to find a UC&C solution that fits your business and connect with a sales expert.
1IDC, Lumen Voice/UC&C Study, March 2022.
2Center for Applied Internet Data Analysis (CAIDA), AS Rank, December 2022.
This content is provided for informational purposes only and may require additional research and substantiation by the end user. In addition, the information is provided "as is" without any warranty or condition of any kind, either express or implied. Use of this information is at the end user's own risk. Lumen does not warrant that the information will meet the end user's requirements or that the implementation or usage of this information will result in the desired outcome of the end user. This document represents Lumen's products and offerings as of the date of issue. Services not available everywhere. Business customers only. Lumen may change or cancel products and services or substitute similar products and services at its sole discretion without notice. ©2023 Lumen Technologies. All Rights Reserved.
Related Posts:
---
Trending Now
You may also like