5 Ways To Evolve Your WAN For Long-Term Success
Posted On February 20, 2023
---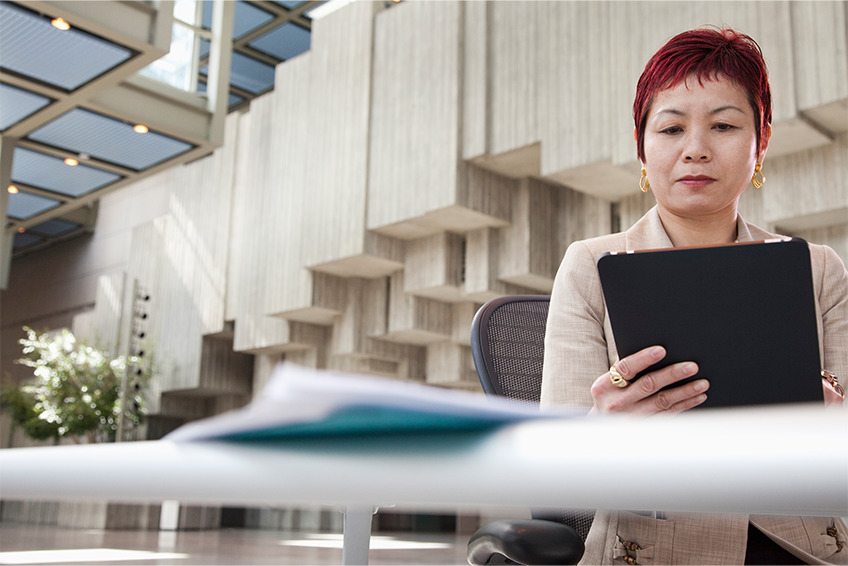 Digital transformation advanced at a breakneck pace during the COVID-19 pandemic and now hybrid work is typical for many workplaces. As a result, many enterprises are rethinking their Wide Area Networks (WANs), looking for ways to improve their network adaptability. This is no small task given the plethora of options and implementation choices muddying the modern networking landscape.
Like many organizations with WAN services, you're probably assessing what's next. Is your current WAN optimal for your needs or are there opportunities to improve? Let's look at some of the recent factors influencing how enterprises, workers and customers navigate WANs.
What's Driving WAN Modernization
Over the past decade, enterprise WAN choices have evolved from the de facto standard of MPLS/IP VPNs toward increased adoption of internet connectivity, creating public–private hybrid WANs. This has its drawbacks, however, as internet does not provide the same reliability or availability that is provided when using dedicated private links.
In addition, the application environment has expanded, with users needing to access apps from many locations and devices. While traditional, centralized WANs were tightly managed—with every start and end location known—this is no longer the case with dispersed WAN environments, as cloud apps don't have known physical locations.
Today, Software-Defined Wide Area Networking (SD-WAN) has become mainstream as a "smart" overlay network to manage various routing and traffic policies. And Secure Access Service Edge (SASE) has emerged as a new paradigm closely integrating security and SD-WAN capabilities in the cloud.
Let's consider the following primary drivers of network transformation and how they've framed the current WAN landscape.
From centralization to edge and cloud
Cloud computing disperses apps and data from a centralized, private data center to internet-enabled software and services. As a result, modern network topologies now resemble a sophisticated web, with data firing along multiple paths between end devices rather than converging like spokes of a wheel around a centralized hub.
Centralized private data center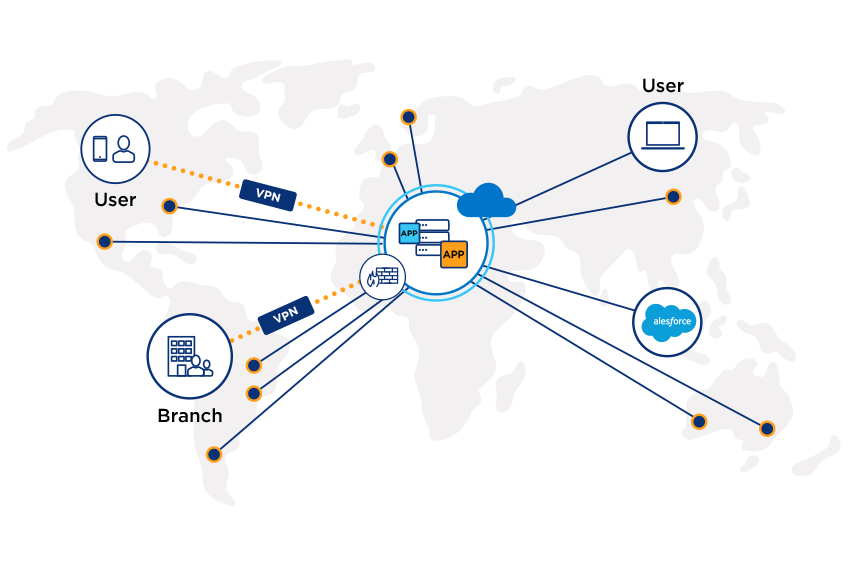 Modern WAN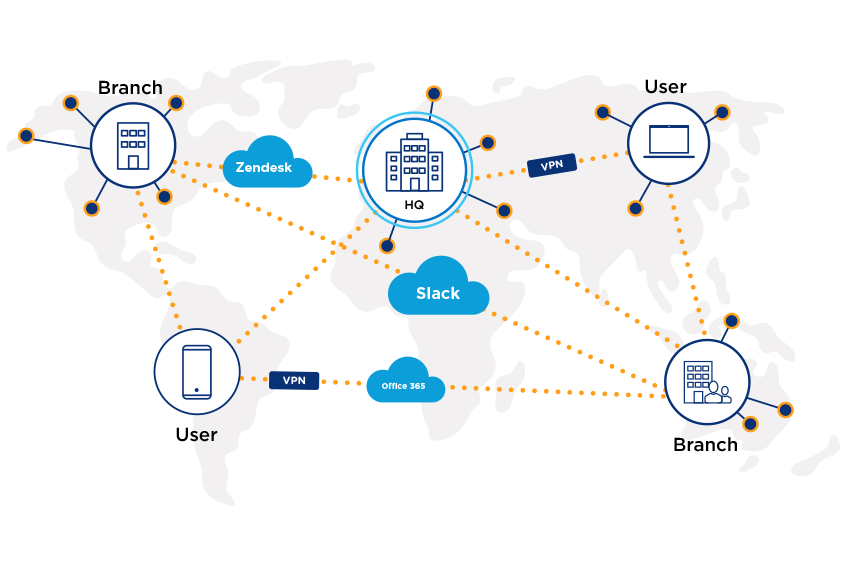 From fortresses To Zero Trust
Traditional WAN architectures had perhaps one or two external entry points, so internal traffic was deemed relatively safe. With the Internet of Things (IoT), however, devices and sensors are often connected across vast distances. Many of those entry points are managed by third parties—meaning the safest assumption when it comes to your WAN is that nothing is safe. This is the premise of Zero Trust, a framework for securing cloud-first businesses which stipulates that no user, device, network or application can be trusted for access permissions by default.
From the company office to the home office
It's a digital-first business world and experts say that there's no going back. According to Microsoft's Work Trend Index, 53% of workers are considering going hybrid in the year to come, and 51% of hybrid workers say they're likely to go fully remote in the year ahead.1 This is a huge shift and a major network challenge, as creating a new network environment that works for in-office, hybrid and remote employees requires an intentional, secure and flexible WAN architecture.
Luckily, finding the right WAN solution isn't complicated. Read on for five simple tips to assess potential network providers.
5 Tips For Choosing the Right Network Provider
1. Authority plus security
Users need a secure, high-bandwidth network that enables them to access apps from many locations and devices. As the #1 peered global network2, Lumen has a proven track record as a leading provider of network, voice and security services with the fastest, most secure platform for next-gen apps and data.
Even if your network has built-in threat protection, as the Lumen Platform does, security should still be a top priority as organizations modernize their WAN. Lumen® SASE Solutions provide a unified view of network traffic and security options to nip threats in the bud, while simplifying operations for managing equipment and policies for on-site and remote workers.
2. Expert guidance
It's essential to work with a partner you trust when overhauling your network infrastructure. Lumen provides 30+ years of network management experience alongside managed and professional services to  help you build, deploy and manage business-wide networks.
3. Solution variety and flexibility
It makes sense for your provider to offer multiple options when advising on WAN architecture, with the flexibility to choose the solution that's right for you—regardless of vendor. You'll also benefit from a solution that scales as needed to keep up with demands. As a provider of everything from internet and MPLS to SD-WAN, SASE and cloud ecosystems, Lumen matches your business networking needs to your ideal mix of scalable solutions.
4. Visibility and control
Getting a unified view of network traffic and operations helps you quickly identify and resolve issues impacting your business. Using the Lumen online portal, it's easy to monitor network performance and manage billing, repairs, orders, product configurations and reporting. Some Lumen products, like Lumen® Fiber+ Internet, also empower enterprises to scale bandwidth on demand.
5. Customer obsession
When network providers put customers first, they listen to your pain points, guide you to WAN options that best address them and ultimately, deliver value through the right solution for your business. Lumen was one of the first in the telecom industry to adopt a customer success model, so you can be confident we understand your business, know how to optimize your solutions and achieve your desired business outcomes.
Why Choose Lumen For Your Network?
In addition to the factors we just covered, Lumen Networking solutions deliver secure, high-bandwidth connectivity that enhances application performance and empowers your users to connect and collaborate virtually anywhere.
Since funding ~12 million miles of high-capacity fiber3, Lumen operates the largest ultra-low loss fiber network in the world. This investment expanded the U.S. intercity network to 5.9 million fiber miles. We will install another 6.1 million fiber miles by 2026, creating diverse routes to more than 50 major cities nationwide.
With edge facilities designed to cover >97% of U.S. business demand within 5ms of latency, the Lumen network offers significant differentiators, including:
~400,000 global route miles of fiber4
~150,000 on-net fiber locations
Dynamic connections to 2,200+ third-party data centers
320+ carrier-neutral colocation facilities​
Over 450 Tbps of total global IP ingress/egress capacity​
Built-in threat monitoring and mitigation by Black Lotus Labs®, our internal threat research and operations team
In addition, the Lumen Network was named a leader in the 2022 Gartner® Magic Quadrant™ for Network Services5, earned the 2022 Frost & Sullivan Best Practices Award for Market Leadership of Business Carrier Ethernet Services in the United States6 and ranked #1 on the 2021 U.S. Wavelength Services Leaderboard.7
Explore how Lumen Networking solutions can help your business thrive with scalable connectivity that powers your next-gen tech and latency-sensitive apps. Talk to your sales representative to get started.
1Microsoft Work Trend Index, Great Expectations: Making Hybrid Work Work, March 16, 2022.
2The Center for Applied Internet Data Analysis (CAIDA), AS Rank, December 2022.
3Fiber miles specifies the number of fiber strands inside the conduit and refers to capacity by multiplying the footprint miles by the number of fibers in the conduit.
4Fiber route miles specifies the miles of conduit house fiber cable and refers to the network footprint in geographic miles.
5Gartner, Gartner Magic Quadrant for Global Network Services, 2022.
6Frost & Sullivan, Frost & Sullivan Best Practices Award, 2022.
7Vertical Systems, Year-End 2021 U.S Carrier Wavelength Leaderboard Report, 2021.
This content is provided for informational purposes only and may require additional research and substantiation by the end user. In addition, the information is provided "as is" without any warranty or condition of any kind, either express or implied. Use of this information is at the end user's own risk. Lumen does not warrant that the information will meet the end user's requirements or that the implementation or usage of this information will result in the desired outcome of the end user. This document represents Lumen's products and offerings as of the date of issue. Services not available everywhere. Business customers only. Lumen may change or cancel products and services or substitute similar products and services at its sole discretion without notice. ©2023 Lumen Technologies. All Rights Reserved.
---
Trending Now
You may also like